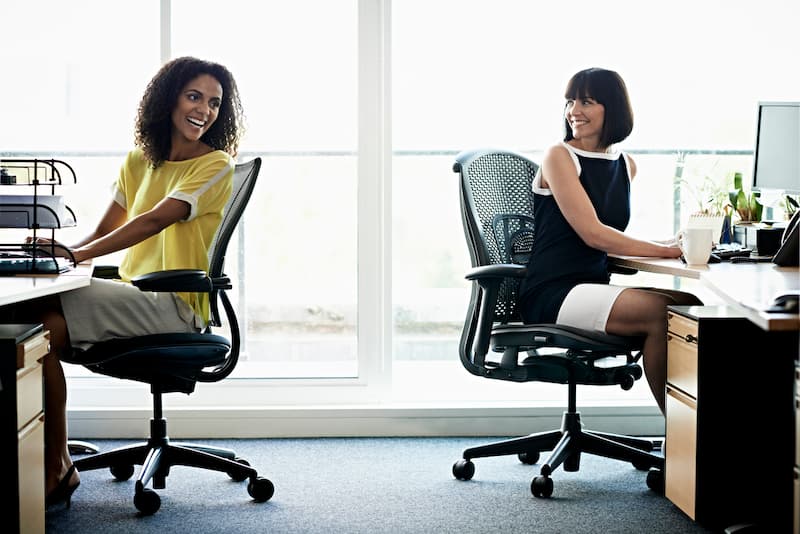 Working in an office involves sitting for long periods, which might cause spine misalignment and back pain. Office chairs come in all shapes, sizes, and designs, but only a few of them offer enough support and comfort to relieve tension in the arms, legs, shoulder, and back.
So what is the best ergonomic office chair for people with back pain? Office chairs are quite expensive but they're a good investment for people who want to take care of their back. The best options include:
Herman Miller Aeron Chair
Modway Articulate Ergonomic Mesh Chair
HOMCOM Heated Massage Chair
Killabee Massage Gaming Chair High Back PU Leather
Linear High Executive Chair
Dragonn Ergonomic Kneeling Chair
Steelcase Leap Chair
Gaiam Classic Balance Ball Chair
8 Ergonomic Office Chair for People with Lower Back Pain
According to the American Chiropractic Association, back pain is one of the leading causes of missed workdays. Around one-half of the working Americans admitted that they experience symptoms of back pain every year. But having the right chair and sitting habits at work may help relieve some of the pain and discomfort while sitting in the office.
Finding the right ergonomic chair to use at work or in the home office might be a challenging task because of the wide range of options to choose from. To make it a lot easier for you, we've compiled some of the best ergonomic office chairs with features that help alleviate back pain:
1. Herman Miller Aeron Chair
Why it's good for the back: The Aeron has a fluid tilt function that allows maximum lower back support for those who tend to lean forward when working.
The Herman Miller Aeron Chair is one of the most popular choices when it comes to ergonomic office chairs because it provides excellent lumbar support. It features a unique fluid tilt function that keeps the feet grounded on the floor while supporting the lower back when leaning forward.
This useful feature is a great addition for workers who prefer to sit forward, but it requires them to use their legs more. The Aeron also provides the same amount of support on the lower back in both the upright and reclined position.
The Herman Miller Aeron Task Chair is quite expensive at a starting price of $1,119, but it's a good investment that provides back pain relief for a long time. Each product also comes with a free shipping discount.
| | |
| --- | --- |
| Pros | Cons |
| This chair provides excellent back support for different types of workers who prefer to sit in upright or reclined positions. | Herman Miller office chairs are usually expensive, but they're worthwhile investments that last for years. |
2. Modway Articulate Ergonomic Mesh Chair
Why it's good for the back: The chair's backrest has a breathable mesh that prevents heat buildup for maximum comfort when sitting.
The Modway Articulate Mesh Chair is a comfortable yet affordable option that offers enough back support features like adjustable seat height and arm rest. It also has multiple levers with easily understandable labels to customize the sitting experience for office workers.
Aside from the mesh backrest, this ergonomic desk chair also comes with a padded seat that offers support for users who seat upright or reclined. The levers are also easy to reach so workers don't need to strain themselves any further while trying to adjust their seats.
The Modway Articulate Ergonomic Mesh Chair is available online through different sites. They also come with a one-year warranty for the frame.
| | |
| --- | --- |
| Pros | Cons |
| This office desk chair is a less expensive option that provides almost the same back support and comfort that pricey office chairs do. | The materials used in this office chair aren't durable enough to last for several years. It's best to use this ergonomic chair if you don't want to splurge on an expensive office chair or you're still saving up for a better one. |
3. HOMCOM Heated Massage Chair
Why it's good for the back: This chair is created with a curved back seat design to effectively support the user's back as they lean into it.
The HOMCOM office chair is extremely popular among different buyers because of its premium feel yet affordable price tag. It also doesn't fall short in providing comfort, thanks to its heavily padded backrest, armrest, and cushion.
Adjusting the chair is also a breeze because it has a reclining button on the side and an adjustable height lever next to it. But the best thing about this heated massage chair is the remote-controlled massage setting that targets 6 different pressure points in the legs, lower back, and upper back.
The HOMCOM massage chair is an affordable option for people who are looking for a stylish yet comfortable office chair. It also comes with a two-year warranty to ensure customers of its long-lasting quality.
| | |
| --- | --- |
| Pros | Cons |
| The backrest and armchair are both heavily padded to provide support and maximize comfort for the users. | The bonded leather prevents the chair from letting some of the heat off, which is why this chair isn't suitable for a long period of sitting. However, the chair cools down quickly so it shouldn't be a big problem for users. |
4. Killabee Massage Gaming Chair High Back PU Leather
Why it's good for the back: This well-known gaming chair has a lumbar cushion and high backrest that provide excellent back support.
Killabee is one of the most popular brands in the gaming chair industry with over a decade of experience under its name. Their chairs are made for long hours of gaming sessions, but they're also excellent choices for home offices.
The Killabee massage gaming chair offers several features to support the back when working and allow maximum comfort when resting. The 4-inches-thick cushion is paired with a high backrest to support the lower back better. But the main selling point of this gaming chair is its excellent tilting and reclining capabilities that are perfect for a quick nap.
Killabee gaming chairs are usually cheaper compared to other ergonomic office chairs. They also come with a one-year warranty for every product purchase.
| | |
| --- | --- |
| Pros | Cons |
| This gaming chair provides an excellent reclining option and retractable footrest for maximum relaxation or a quick nap. | The massage feature of the lumbar pillow is quite weak, but it's a great addition for added back support nonetheless. |
5. Linear High Executive Chair
Why it's good for the back: This stylish chair has several ergonomic features that are designed for people with back problems.
Direct Office combined class and comfort in their Linear High Executive Chair that's perfect for people with back pain. It's a top-notch ergonomic chair that includes an easy-adjust tension control, a multi-tilt and lock mechanism, and a dual-density "posture zone" seat.
They also use a special fire-retardant foam that allows the chair to self-extinguish when exposed to open flames. The polished chrome fixed armrests also help relieve some of the pressure on the shoulders when the user is working and sitting upright.
Linear High Executive Chairs are expensive at around $1,100, but they come with five-year warranties to ensure customers of their high-quality.
| | |
| --- | --- |
| Pros | Cons |
| This chair has easy-to-adjust features that allow users to find the best setting according to their preferences. | This executive chair is quite expensive, but its five-year warranty is a generous deal for the customers. |
6. Dragonn Ergonomic Kneeling Chair
Why it's good for the back: The tilted angle of the kneeling chair encourages users to maintain a good posture while working.
Kneeling chairs like Dragonn Ergonomic Kneeling Chair help users maintain a good posture when working. They also distribute the weight throughout the body to relieve strain and pressure in the lower back.
This kneeling chair introduced by Dragonn gives workers the benefits of standing upright even when sitting. It includes a 3-inch-thick seat cushion and soft knee pads that provide support for the lumbar region.
Dragonn Kneeling Chairs are cheaper than other kinds of ergonomic chairs. They also come with a 30-day return policy that allows customers to return to the product if they're not satisfied with it.
| | |
| --- | --- |
| Pros | Cons |
| The chair's unique design is effective in improving posture and alleviating pain in the lower back. | The lack of backrest might be uncomfortable for others, but the design was intentionally made to encourage individuals to sit upright. |
7. Steelcase Leap Chair
Why it's good for the back: This chair features an intuitive lumbar support system that allows users to make adjustments based on their comfort preferences.
When it comes to the best ergonomic office chairs, both Steelcase Gesture and Leap Chairs are great options. However, the latest version of Steelcase Leap v2 Ergonomic Chair outperforms Gesture, which is why we chose to include it in this list instead.
The 2021 version of the Steelcase Ergonomic Leap Chair provides excellent back support thanks to its padded and upholstered high backrest. It also includes a lumbar support and tension system to make adjustments quickly and precisely.
The Leap Chair is also a great pick for people who like working in a reclined chair. It provides the same back support until 50% recline. However, anything beyond this mark causes the users to start losing some of the support in the lower back.
The Steelcase Leap is quite a big investment at $899. The manufacturer offers free shipping and a 12-year warranty for their product.
| | |
| --- | --- |
| Pros | Cons |
| The chair features an advanced support system that allows users to customize it based on their comfort level. | Users may only recline the chair up to 50% before it starts losing the maximum support for the back. |
8. Gaiam Classic Balance Ball Chair
Why it's good for the back: Ball chairs are made to improve the user's core while encouraging them to sit upright while working.
Gaiam Ball Chairs are ergonomically designed without a backrest to help sitters get rid of their slouching habits when working. This alternative chair solution soothes back pains and muscle aches by encouraging users to sit straighter. Its design also subtly reminds them to strengthen their core.
The ball chair also includes chrome bars to keep the ball in place, as well as an air pump for easy assembly. Moving around while seated is also easy thanks to its four wheels. Two of these wheels are lockable to prevent sitters from moving around too much. The ball chair's base also provides additional height, so users may reach their desks with ease.
The Gaiam Classic Balance Ball Chairs only cost $69.98 with different colors to match your preference. The manufacturer offers free economy shipping for orders that reach at least $125.
| | |
| --- | --- |
| Pros | Cons |
| This chair helps users maintain a good posture when sitting. It also strengthens their core and muscles in the lumbar region. | The ball chairs usually fit desks with standard height, but users who find the ball chair too small for their liking need to purchase leg extenders for additional 2 inches of height. |
Bonus: LoveHome Memory Foam Back Cushion
Quality office and ergonomic chairs are expensive investments, so it's only normal for individuals to take their time before deciding whether they need one or not. But for those who need immediate back support, the LoveHome Memory Foam Back Cushion is a smart but temporary solution.
This lumbar pillow is made of high-density memory foam that provides comfortable back support. It comes with adjustable straps for easy attachment on the user's existing chair. The concave design of the cushion is meant to follow the spine's natural shape for better posture and pain relief.
The LoveHome back cushion has a washable and breathable mesh cover to keep the back cool even after hours of use. It also comes in different colors to match the chair you're using in the office or at home.
A Guide to Choosing the Best Office Chair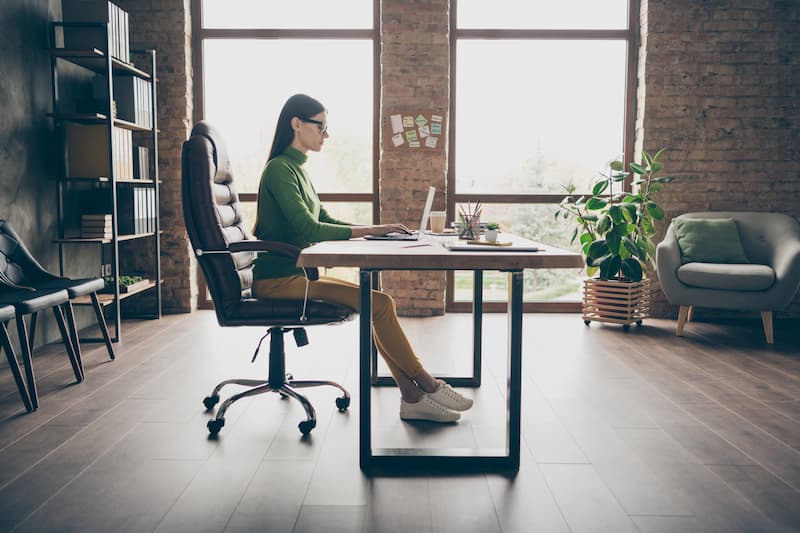 The ideal office chair should have proper lumbar support and soft cushions that alleviate pressure in the back. However, there isn't a one-size-fits-all solution because each person's body is different. It's important to look at the features and test out different office chairs first before buying the best one.
Here are some of the most important factors to consider when shopping for an office chair:
Material
Different materials provide different levels of support on the hips and back. Office chairs with padded backing might feel stiff, but they offer focused support on certain areas. Here are some of the most common materials used in ergonomic chairs:
Fabric – Fabric is a lot smoother and breathable than other materials. They also come in a wide range of colors and styles to match the user's preferences. However, office chairs made of fabric are difficult to clean.
Mesh – Mesh is light and comfortable, which makes it breathable. They're also budget-friendly, which is why they're a popular choice for most office workers.
Vinyl – Vinyl office chairs look like they're made of leather, but they're more breathable and easier to clean. They also come in a range of colors to choose from.
Leather – Leather chairs look classy, but they're more expensive than other options. They're a worthwhile investment because leather is extremely durable.
Faux Leather – This material looks like leather, but it's not as durable.
Adjustability
A good office chair should have an easily adjustable lumbar support to match the user's posture, height, and comfort. They should be easy to recline at the right angle with levers to adjust the armrest, headrest, and seat height.
Durability
Like mattresses, office chairs are worthy investments that help keep the back healthy and aligned. They're quite expensive so customers should choose the most durable option for their budget.
Well-established office chair manufacturers offer warranties that ensure their product's long-lasting quality. The office chair's material is also something to consider because different types have varying levels of durability.
Lumbar Support
Lumbar support is a crucial ergonomic design for people with back and neck pain. This feature usually refers to a fixed cushion, s-shaped backrest, adjustable seat depth, adjustable height, and adjustable headrest.
Tilt Tension
This feature isn't important to some people, which is why not all office chairs have them. However, it's a feature worth mentioning because adjusting the tilt tension helps the chair accommodate the user's support preferences and body weight.
Mobility
Office chairs should also offer enough mobility for the user. Casters and swivels are the features that allow people to move around while staying seated. Most office chairs come with 360-degree swivels for easy push and pull from the office desk. On the other hand, casters allow users to move the chair and reach for objects.
It's also important to find a chair with wheels that roll smoothly on most surfaces. They should also allow the chair to move in all directions. Some wheeled office chairs include a lock feature that prevents them from moving when they shouldn't.
Chair Type
Office chairs come in a wide range of styles and designs, but people with back pain should prioritize finding one that has different ergonomic features. Here are some of the most common types of office chairs and the kind of support they offer for the back:
Ergonomic – encourages a neutral position to prevent musculoskeletal disorders or relieve tension in the back.
Executive – features a high back and seat cushion for proper back support.
Mesh – improves the breathability of the chair so it's more comfortable for the user.
Balance Ball – is for short-term use. It helps strengthen the leg and core muscles.
Kneeling – has angled knee rests to properly distribute the body weight between the shins and the buttocks.
Sit-Stand – supports the body when sitting or standing.
Resting Eye Level and Adjustable Armrest
Check the chair's resting eye level by sitting on it comfortably with the head facing forward. The user's gaze must be at the center of the screen to reduce strain on the neck and upper spine. Change the chair's height adjustment accordingly.
A comfortable chair should also include an adjustable arm rest that slightly lifts the arms. Having a good armrest helps relieve some of the strain and pressure in the shoulders and upper spine. Armrests should also prevent users from slouching into the chair.
Permanent Lower Back Pain Relief by New York Pain Care
Ergonomic chairs are important in helping patients alleviate back pain, but they still need the right treatment for their spinal condition to experience permanent pain relief. Here at New York Pain Care, we have a team of multidisciplinary experts who offers the best non-surgical treatments for back pain.
Our highly trained staff here at New York Pain Care is committed to improving our patient's quality of life using the latest treatments and state-of-the-art facilities. Experience the best care and treatment for different back and spine problems at the nearest New York Pain Care clinic now. Call us at (646) 846-1824 to book an appointment with one of the country's leading spine experts and pain management specialists.
Learn more: Best Sleeping Positions For Lower Back Pain