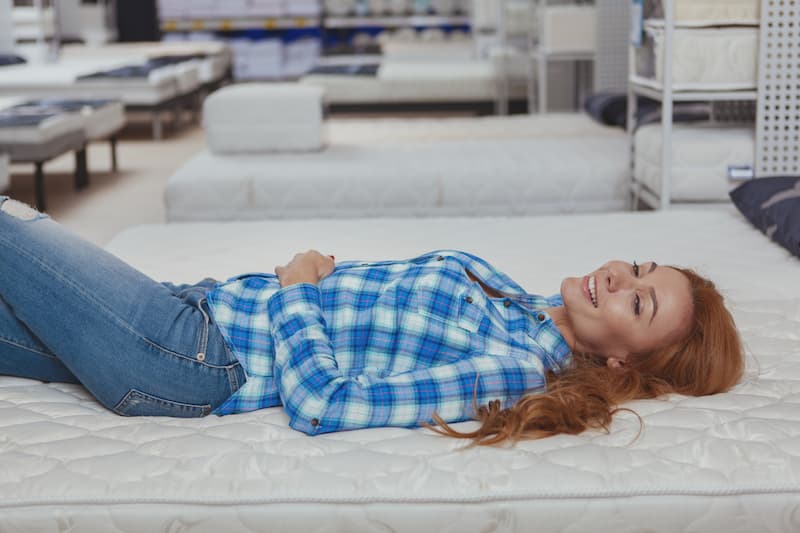 Back pain is a common problem that affects millions of Americans every year. This condition is caused by several possible reasons that range from something simple like poor posture to more serious ones like a sports injury or spinal condition. Regardless of the main reason for the lower back discomfort, a pain sufferer experiences worse pain if they sleep on the wrong mattress every night.
So what's the best way to choose a mattress for low back pain? Picking the right mattresses is important for getting the proper back support. Make sure to consider different factors when shopping for beds, such as the firmness, sleeping position, zoned support, mattress type, comfort level, the price and return policy, and the sleeping accessories you might need.
Do Mattresses Affect Sleep and Back Pains?
Dull or constant pain in the lower back region is a problem that affects around 80% of Americans at least once in their life. While there are tons of possible reasons for their back pain, it's no secret that the mattresses they sleep in affect how the pain improves or worsens.
According to a study, people with lower back pains have difficulty sleeping at night. This affects both patients with acute and chronic back pain. Humans spend about one-third of their lives lying down in bed, which is why choosing the right bed is to lie in is important.
As years pass by, mattresses at home sag in different areas. This causes them to lose the support needed to keep the spine aligned when sleeping. The lack of back support puts a strain on the back muscles, which starts or worsens the pain in the lower back.
While the root cause of back pains should be treated for long-term pain relief, little habits also contribute to alleviating the pain and discomfort. Maintaining a good posture when standing or sitting, lifting heavy objects in the right way, as well as sleeping on a mattress with excellent spinal support might help with pain relief.
Things to Consider When Choosing a Mattress for Low Back Pain
Mattresses are the primary reason why most people with back pain have a hard time sleeping or even getting into a comfortable position at night. But unlike what most people believe, choosing the most firm-as-a-plank bed isn't the best choice for the perfect mattress. In reality, there isn't a one-size-fits-all mattress that gives every person a good night's sleep.
Finding the right mattress for a person with low back pain takes a lot of work because of the many factors to consider. Here are some things to check when shopping around for the best mattress that provides excellent support for the back and the body:
1. Firmness
A mattress' firmness level refers to the initial sensation that people feel when they lie down on it. Most mattress manufacturers rate the firmness of their products from 1-10, with 1 being the softest and 10 being the firmest. Here's how mattress firmness is assigned based on the said scale:
1 – extra soft
2 to 3 – soft
4 – medium soft
5 – medium
6 – medium-firm
7 to 8 – firm
9 to 10 – extra firm
People usually choose firm mattresses whenever they want to promote spinal alignment, but even a medium firm mattress is enough for the job. Mattresses with scores of 6-7 on the firmness scale provide adequate back support for most people while cushioning for the pressure points along the body.
An extra firm mattress might only put too much pressure on the spine and cause back pain, which is why it's also important to consider the mattress' softness. On the other hand, extra soft mattresses cause the back to sink which leads to misalignments.
Aside from the firmness of the mattress itself, patients should also consider their weight when choosing the right mattress. For example, sleepers that weigh around 230 lbs. put more pressure on the mattress than a 130 lbs. sleeper.
This causes the mattress to sink further, which is why heavier sleepers need a firmer mattress to prevent misalignments in their spine. On the flip side, lightweight sleepers need a softer mattress so that the pressure points in their bodies are cushioned well.
2. Sleep Position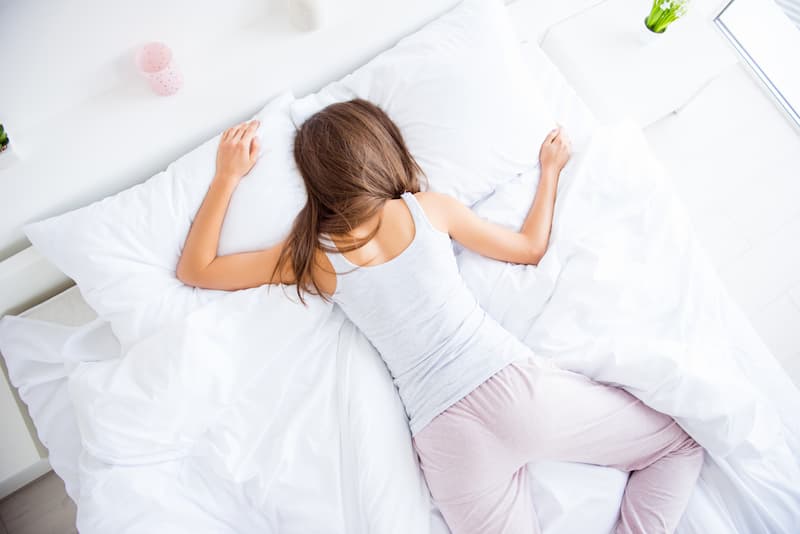 Different sleeping positions directly affect back pain because it creates different sets of pressure points in the body. These pressure points need to have the right support, which is why patients should sleep in the right mattress if they want to reduce back pain. Here are the different types of sleepers and what kind of mattress is the best for them:
Back Sleeper – Back sleepers have the most number of pressure points in the lumbar area. Soft mattresses cause the abdomen area to shrink along with the hips and back, which disrupts the spine's alignment. On the other hand, hard mattresses can't accommodate the body's natural curve in the lower back. Medium-Firm to Firm mattresses are the best choice for back sleepers.
Side Sleeper – The high-impact areas for side sleepers are the parts where their body is the widest, like the hips and shoulders. Their mattresses need to be soft and contoured enough to cushion these points, but not so that their body sinks and ruins the alignment. Side sleepers get the best sleep in Medium to Medium-Firm Mattresses.
Stomach Sleeper – The pressure points of stomach sleepers are usually found in the neck and lumbar area. Aside from the kind of mattress they have, they also need to consider the thickness of their pillow to have the best spine support when sleeping. Soft mattresses cause their pelvis to dip down, while tall pillows excessively bend their upper back and neck. For these reasons, stomach sleepers should have Firm mattresses paired with thin pillows.
Combination Sleeper – This kind of sleepers usually change their positions to sleep on their side, back, or stomach throughout the night. A combination sleeper might feel most comfortable in a mattress with medium firmness because it balances the softness needed for relieving pressure points and the firmness needed for keeping the spine aligned.
3. Zoned Support
A person's weight isn't well-distributed on their body's sleeping surface when lying down. Some parts of their bodies weigh more than the others, such as the head and back. These areas put more pressure onto the mattress and cause it to sink more than the other parts. Excess sinkage in the mattress usually leads to misalignments along the spine.
Mattresses made from memory foam are excellent for this kind of problem because it has zoned support systems. Memory foam pushes the back while keeping the shoulders and hips cushioned. With this system, the material effectively prevents excessive sinkage and keeps neutral alignment along the spine.
4. Mattress Type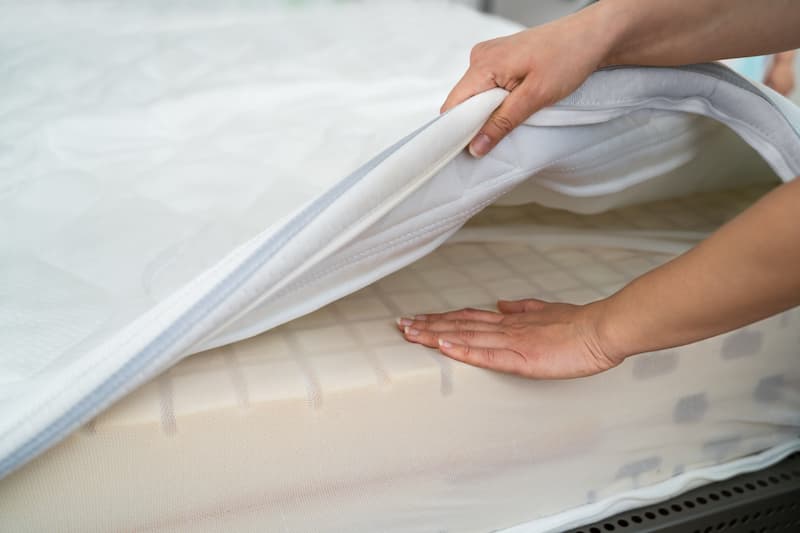 Different mattress materials provide a different feeling for sleepers. They're typically made with various contouring technologies that are crucial for providing the right spine support for an individual. Here are some of the most common mattress materials available in the market today:
Memory Foam
A memory foam mattress is composed of different foam layers that provide great pressure relief to the body's surface. It also keeps the spine alignment neutral for a healthy back. Memory foam mattresses come in different firmness levels, so it's important to find the right mattress that suits your body type, sleeping habit, and comfort.
Memory foam is the best material for maintaining the natural curvature of the spine even when sleeping. Its structure has excellent motion isolation technology that won't disturb sleep even when sharing a bed with a partner who turns and tosses.
Innerspring
An innerspring mattress is the traditional kind of spring mattress that has a layer of steel pocketed coil topped with a comfort layer. The coils allow free flow of air, which makes the material breathable. The comfort layer is usually made of foam, cotton, or wool to maximize an individual's comfort when sleeping.
This kind of mattress is also responsive to the person's movements, which makes them resistant to sinking. But when the pocketed coil starts pressing too much pressure against the body, an individual might feel intense back or hip pain. They also produce a lot of noise that might disturb relaxation and disrupt sleep quality.
Latex
Latex mattresses are either made of synthetic latex or all-natural latex. The synthetic ones disintegrate more quickly, which is why they're not a good long-term investment. Natural latex beds are made from the sap of Talalay or Dunlop. Talalay latex is bouncy while Dunlop latex is springy. Both types of latex mattresses are available in various firmness options.
A latex mattress is bouncy like the innerspring mattress, but it also provides excellent body contour and pressure relief close to that of a memory foam mattress. This type of mattress is recommended for hot sleepers since the material is aerated and hypoallergenic. It has tiny holes which allow the air to pass freely through the mattress.
Latex mattresses are the best choice for those who are looking for organic beds that provide enough support for the back. However, latex mattresses are the most expensive among the usual mattress types so make sure you have the right budget for it before investing in this excellent mattress.
Hybrid
The hybrid mattress offers the benefits of different mattress types in one convenient bed. It combines the features of an innerspring mattress with a latex or memory foam mattress. Most hybrid mattresses in the market today are made up of a coil layer base and 2-inch-thick memory foam or latex mattress top. Some hybrid mattresses utilize poly-foam for their comfort top layers, but they don't support the back and body as well as memory foam or latex do.
Most hybrid mattresses feel firmer yet bouncier than latex or memory foam mattresses because of their coil layer base. Pocketed coils are useful for minimizing motion transfer, but their bounce might get in the way of proper back support when lying down.
Airbed
Airbeds are the "smart" type of mattress that allows users to control the firmness instantly. An airbed has a support core composed of inflatable chambers. Sleepers use a smartphone or remote to fill or remove air in these chambers, effectively adjusting the firmness of their mattress.
In addition to the adjustability of the airbed, what most customers love about this type of mattress is the wide selection of comfort systems that are put above the support core. They may use wool, polyester, latex, cotton, and foam to create the most comfortable bed for the customer's liking.
5. Comfort
Comfort depends on each person's preference, which is why an individual needs to test out the features of a new mattress before buying one. When shopping for a mattress, try different types, firmness levels, and brands first.
Take note of the mattresses that meet your needs and preferences to narrow the list down. Make sure to spend at least 15 minutes on the mattress you picked and try out different sleeping positions to check if it's still comfortable.
6. Price and Return Policy
Mattresses are expensive, but they're a worthwhile investment since humans spend about one-third of their lives sleeping. A good night's sleep is extremely important to a person's performance and health, which is why it's better to invest in an expensive but comfortable mattress than a cheap and low-quality one.
Since mattresses are pricey, many manufacturers offer different kinds of warranties and return policies for their customers. Most of them allow buyers to try the new mattress for at least one month. The mattress can be returned or exchanged if it doesn't work for the customer. But before heading back to the mattress store, make sure to check the instructions for returning them first.
7. Sleeping Accessories
Other than a comfortable and soft mattress, sleeping accessories also help improve a person's quality of sleep. Here are some of the most common sleeping accessories to complement the mattress at home:
Mattress Topper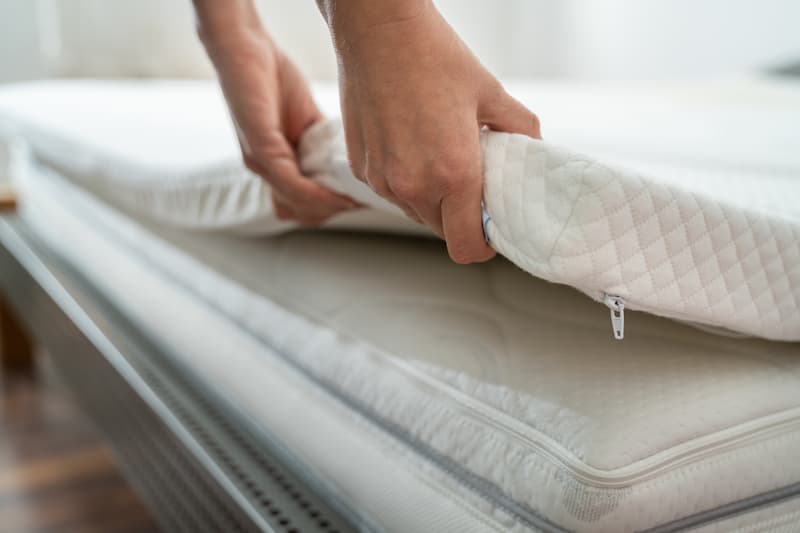 Mattress toppers are the additional 2 to 4-inches-thick foam layer placed at the top of the existing mattress. They're the next best option for back pain sufferers who can't afford to buy a new mattress just yet. These toppers help relieve lower back pain by softening or firming up the current mattress instead of replacing it entirely.
Mattress toppers are usually made of the same materials used in a regular mattress like gel memory foam, latex, or memory foam. They also come in regular mattress sizes in most mattress stores. Both the latex mattress topper and memory foam mattress topper are excellent choices for people who need the right support for their back.
Pillow
Like mattresses, pillows are also extremely crucial in maintaining the spine, head, and neck properly aligned when sleeping. If a sleeper experiences neck pain along with back pain, there's a huge chance that they're not using the right pillow at night. The firmness and height of the pillow are the two most important things because they must support the head and neck correctly while supporting the natural curve of the upper spine.
Side and back sleepers should use mid-loft pillows made of latex or memory foam for maximum comfort. A solid pillow is better than shredded foam because its firmness properly supports the head and neck. It keeps the head sinking too deep into the pillow and risking spine misalignments.
Stomach sleepers must use a low-loft pillow that measures around 2 to 3 inches high. They're also advised to ditch the pillow altogether to avoid straining the spine.
Adjustable Base
Sleeping in an adjustable bed gives sleepers the chance to set the mattress to their preferred angles. This kind of bed has mechanisms in the upper and lower part to allow users to easily raise or lower their head and feet regions. Adjustable beds help maximize their comfort by relieving pressure points, improving blood circulation, and providing the right back support.
The best thing about using an adjustable bed frame at home is that it works with almost all kinds of mattresses. Non-innerspring types like latex and memory foam mattresses work best because they're not firm enough to resist the adjustments of the bed frame.
5 Best Mattresses for People with Low Back Pain
Shopping for the best mattress is a difficult task because of the tons of options to choose from and factors to consider. To make it a bit easier for you, we've compiled some of the best mattresses that help alleviate lower back pain:
1. Nectar Mattress
The Nectar mattress is a high-quality option that's perfect for people with a limited budget for a new mattress. It features three separate layers of medium-firm foam that hug the contours of the body well.
The 1-inch-thick top layer is infused with gel to prevent heat buildup. It also has a Tencel cover that effectively promotes the mattress' breathability. The 3-inch-thick second foam layer is responsible for keeping the mattress firm and stable. The last layer is also similar to the top layer: 1-inch-thick and gel-infused.
This mattress is the right pick for side sleepers over 130lbs. and stomach sleepers under 230lbs. The Nectar mattress also offers a 365-night sleep trial with a lifetime warranty.
2. Saatva Classic
Saatva has a good reputation for providing high-quality mattresses created with quality materials and thoughtful design. Individuals who suffer from acute and chronic back pain experience relief from their symptoms thanks to the right combination of springiness and contouring that a Saatva mattress brings.
Saatva offers their classic mattress in three firmness levels, so that people with different body weights and sleeping positions may find the best mattresses for them. Their firm models are perfect for heavy back and stomach sleepers, while their softer models provide enough support for lightweight side sleepers.
White-glove delivery is a free option for Saatva customers. This means that their delivery team installs the mattress straight to the client's bedroom while hauling the old mattress away. Saatva offers a 180-night trial and a 15-year warranty on defects.
3. Bear Mattress
Bear mattresses are typically more affordable than most brands in the market today. They also offer a lot more perks than some pricier options while keeping their materials sustainably sourced. Each Bear mattress is made with eco-friendly materials, which makes it free of ozone disruptors and heavy metals.
Most bear mattresses are on the firmer side of the scale, but they're woven with the Celliant Infrared Yarn technology that converts the sleeper's body heat into natural energy. The converted energy is emitted back into the body's muscles and tissues to help them recover from back pain and other issues.
A queen-sized mattress from Bear is only around $800. Aside from their cheap price tag, Bear mattresses also come with a 10-year warranty.
4. Purple Mattress
Purple mattresses are designed to help customers get the best sleep every night. The top layers of their mattress are created with breathable material that prevents heat buildup, while the inner layers are made of high-density foam that's soft enough for the body without letting it sink too deep.
Each Purple mattress has a "purple grid" technology that automatically flexes under the body's pressure points. This helps relieve tension in the muscles while providing the right support for the back and body. This dual-layer foam that's both responsive and soft comes with a 10-year warranty.
5. Helix Luxe Mattress
Helix Sleep is a manufacturer that produces an extensive line of mattresses ranging from luxury hybrids to more budget-friendly options. They offer a wide selection of high-quality mattresses for different people based on their sleep position, body type, and firmness preference.
The Helix Midnight Luxe is a particular standout model because of its zoned coil system that keeps the material breathable. This system also cradles the sleeper's body and prevents deep sinkage. The hybrid mattress comes in different firmness levels that customers may choose from.
Helix Sleep's Midnight Luxe might seem more expensive than other mattresses in the market but it offers a lot of perks that don't come with other brands. Customers may enjoy free shipping to all 50 states in the country, a 100-night sleep trial, and a 15-year warranty with every purchase of the Midnight Luxe.
Get Back Pain Relief and Better Sleep with Treatments at New York Pain Care
Sleeping on the perfect mattress might help alleviate the lower back pain, but the patient should still undergo the right treatments to experience permanent pain relief. Here at New York Pain Care, we understand how important it is for our patients to return to their pain-free lives as soon as possible.
Our team of multidisciplinary experts works together to create comprehensive and interventional non-surgical solutions for different kinds of spine conditions. All of our treatments are performed inside state-of-the-art facilities to ensure patient safety and comfort at all times. Call us today at (646) 846-1824 to book an appointment with one of the country's top spine specialists.
Learn more: Why You're Having Lower Back Pain on The Left Side Above Your Buttocks