Having a proper pillow that supports your neck is extremely important to mitigate neck pain arising from injury, post-operative recovery, or strain on your neck. A good neck pillow can help you sleep better, which enhances your recovery time by helping you fall asleep even when you're in pain. The right pillow is integral for patients recovering from neck pain.
So what's the best kind of pillow for neck pain? Generally, a medium soft latex pillow is the most ideal type of pillow to help with neck pain. You should test your pillow's firmness, filling, height, loft, shape, texture, and material, so it doesn't add to your neck pain. Consult with your provider to know the right type of pillow for you.
Characteristics of a Good Pillow for Neck Pain
There are a number of characteristics that make a pillow best suited for patients suffering from neck pain. The ideal pillow is one that can support the head and maintain the neck's alignment with the spine, which helps to ease neck pain and promotes muscular relaxation. The following are a few common characteristics of a good neck pillow:
1) Firmness and Filling
Pillows that are considerably firmer are more suitable for providing neck support to those with neck pain. Ideally, pillows with a medium-firmness should be the perfect headrest to get a good night's sleep. While you sleep, medium-firm pillows support your head and assist in maintaining your body's neutral alignment.
It's also important to take into consideration your pillow weight, height, sleeping position (stomach sleepers, back sleepers, side sleepers, and the like), and filling material when deciding on firmness. Pillows that are filled with cotton, polyfill, feather-filled, kapok, and down tend to be on the softer and plush side of the pillow spectrum. Memory foam, wool, and latex pillows offer a firmer sleeping surface.
2) Height and Loft
The height and loft of your pillow also play a pivotal role in determining the level of neck support it provides for your neck pain. Doctors usually recommend pillows that ensure that you don't have your neck at a higher level than the rest of your spine. As such, patients suffering from neck pain should avoid using overly lofty pillows. The ideal pillow is one that has a height in the range of 3 to 5 inches and has a medium-loft.
This will ensure that your head isn't forced into an uncomfortable angle while also providing comfort. A pillow with a loft where your neck and spine are in alignment is best suited for managing neck pain. It's also crucial to take the shoulder width and head size of the sleeper into account.
3) Shape
Neck pillows are available in a variety of sizes and designs; from basic rectangular shapes to more specialized designs that aim to alleviate neck pain. Cylinder-shaped or cervical pillows are equipped with bolsters to offer neck support for stress-free sleeping. There are also pillows with a curved design that aligns itself with the natural backward-C curve of your neck.
On the other hand, orthopedic pillows have an intricate structure with several cavities that help support your cervical curvature by keeping your neck, spine, and head in alignment. Standard pillow shapes can provide you with more level head support as you sleep, while orthopedic and cervical pillows with specific designs can help you target specific points on your neck that cause pain.
4) Texture and Material
The surface texture is also important when choosing a pillow that will help alleviate neck pain. For instance, contour pillows have a sleeping surface that's specifically designed in a way that the elevated contours offer neck support and help you maintain a good alignment when you sleep. Memory foam pillows provide precise neck support by accurately conforming to your spine's natural curvature.
Pillows made from latex are flexible and offer good support to your neck. On the other hand, water pillows are adaptive in nature as they provide support to the head and neck region by adjusting to the movements of the sleeper. They can be great for pain relief but may not always be a convenient option. Pillows made from buckwheat are becoming increasingly popular as they can offer the right amount of support while still remaining an eco-friendly option.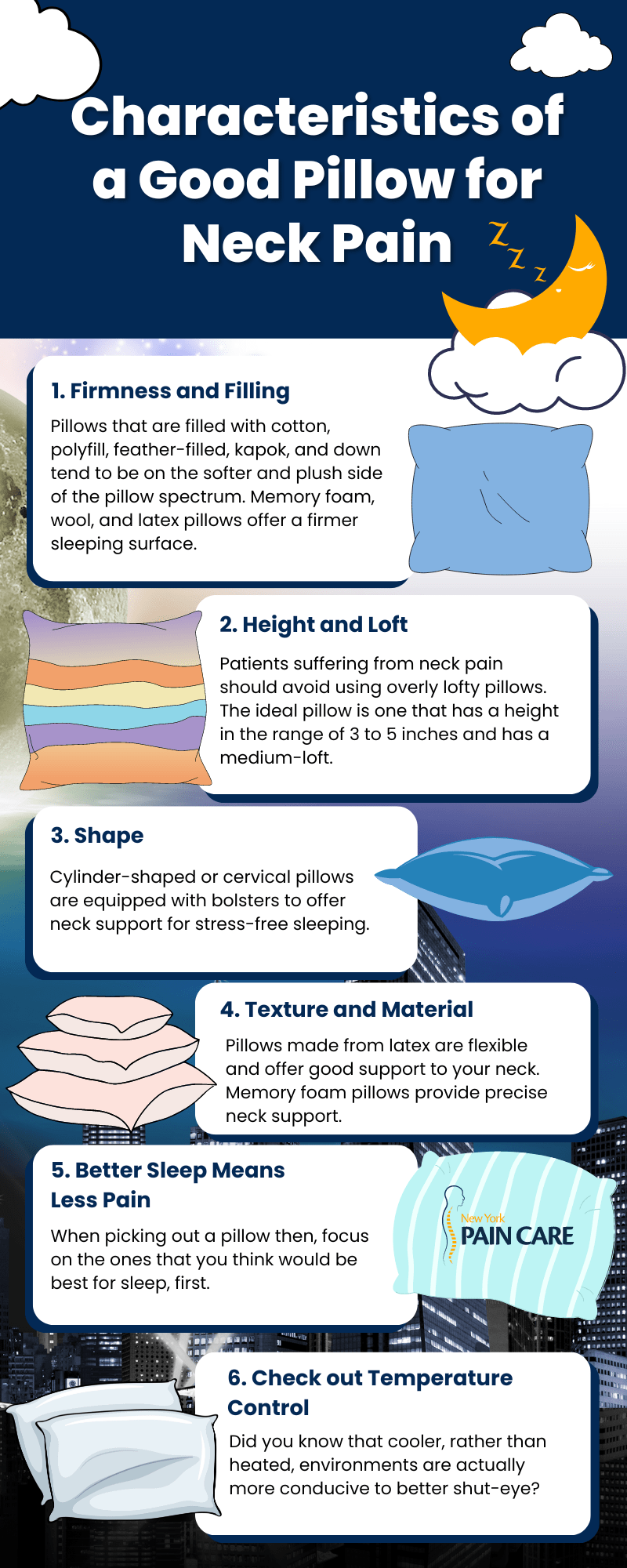 Best Pillows for Neck Pain
The best pillow for neck pain depends on the aspects that you're looking for in your pillow. These can vary based on your needs and requirements. However, we have put together a few recommendations across different types of pillows to help you find one that suits your specific needs.
Best Overall Pillow
A medium soft latex pillow (such as the Saatva Latex Pillow) can be regarded as the best overall pillow if you're looking for one that will offer you good neck support without any particular specifications in mind. They closely conform with your head, neck, and spine to offer you maximum support for your neck pain.
You can also change the height and loft of the pillow by removing some of the internal components. Apart from being adjustable, they also come with a microdenier padding that makes the latex core softer and comfier for sleeping. Given how snuggly it cradles the head and neck, the Saatva Latex Pillow also maintains a relatively cool temperature.
Best Memory Foam Pillow for Neck Pain
The Tempur-Pedic Ergo Neck Pillow offers firm support for neck pain while remaining one of the best memory foam pillows on the market. The hypoallergenic memory foam pillow comes in different heights to offer the right support for people with degenerative diseases, neck pain, or upper back problems.
Apart from its ability to naturally conform to your body structure, it also comes with two unique bolsters that are designed to make the pillow snugly nestle under your head. Compared to other contoured memory foam pillows, it comes with an elevated slope for your head to rest on instead of providing the conventional cut-out space.
Best Pillow for People Who Sleep on One Side
Different people have different sleeping positions and, as such, may require specialized pillows that suit their sleeping position. The Pillow Cube is a memory-foam pillow with a high loft that is one of the best pillows for people who sleep on their side. It has a characteristic square-shaped design that ensures that you can maintain a 90° angle between your shoulders and head when you sleep. This helps in relieving the undue pressure on your neck.
The Pillow Cube is made of breathable, naturally antibacterial, structurally hard carbon-core memory foam that is made to cradle your head while maintaining its shape. It's also covered in a cool, machine-washable cover. The company produces a cooling version of the pillow that, according to the brand, will let you sleep up to 10° cooler if you sleep unusually hot and need a little extra help controlling your body temperature.
Best Pillow for Severe Neck Pain
If you're suffering from chronic neck pain, you may require an orthopedic pillow that is clinically designed for managing pain and relieving pressure from your spine. The Therapeutic Orthopedic Sleeping Pillow is a good example of such a pillow. It has a highly structured design with a very firm molded foam that helps it serve as a corrective pillow for your sleeping position.
It's advised to consult a doctor before opting for one. It's intended to support your thoracic spine, correct your neck, ease jaw discomfort, and support your head. The pillow may increase your neck pain during your initial few days of use but will definitely help reduce stiffness in your neck in the long run.
Best Water Pillow
Water pillows are a novel type of pillow that offers excellent neck support. The water pillow's weight enables it to remain in place while preventing the head and neck from moving. It serves as a fluid memory foam by continually molding itself to the contour of your head. It also assists in reducing any neck stress brought on by tossing and turning.
The water pillow has a soft poly-fiber stuffing that's encased in an adjustable water pouch. You can add additional water to the bag to make a firmer pillow, which is great for relieving neck strain. You can also make the pillow softer and flatter by removing water.
Best Cervical Roll Bolster Pillow
The AllSet cervical neck roll is a solid, memory foam pillow with a medium-high loft. It offers incredible neck support due to its in-built cylindrical cervical bolsters. They are often used in tandem with a standard pillow for relieving pain while also offering comfort.
The robust memory-foam interior is firm and responsive, while the machine-washable plush cover is soft and comfy. The bolster neck pillow can be placed between your knees to provide additional back support.
Best Pillow for Acute and Minor Neck Pain
The Layla Kapok pillow is a great option if you're suffering from acute neck pain that is preventing you from getting a good night's sleep. It has a core made from shredded memory foam and fiber. This gives it a comfier, fluffier, and airier feel while providing neck support. The best part of this pillow is the flexibility it gives you in adjusting the loft of the pillow.
Instead of going through a trial and error process, you can change the amount of filling inside the shredded memory foam pillow to modify the height. Additionally, it has a buoyant response, which is helpful in mitigating neck pain for side sleepers, back sleepers and stomach sleepers alike.
Best Pillow for Changing Positions
It's not always easy to find a constant sleeping position when you're suffering from neck pain. The Tri-Core Cervical pillow is a very firm pillow with a polyester fiber filling that is specifically designed for a back sleeper who has a tendency to change position in the middle of the night. It's provided with a central depression that supports the head and helps maintain a good spinal alignment with your head.
For those who sleep on their backs, the robust cervical roll supports the neck while the headrests in the contour. The pillow has a larger neck roll on one side that provides greater support and a smaller neck roll on the other side that offers less support. While the versatility of the contour pillow is great, it may take a while to break into it as it's designed for various sleeping positions.
Best Pillow for the Most Comfort
The Silk and Snow pillow is a great option for those who are looking for a pillow that will provide them with the most comfort. It's made from a shredded memory foam core that is encased in a microfiber chamber. This offers strong pressure relief for their neck pain and has a plush feel for comfort.
It also has an adjustable loft that makes it a great buy for those who don't have a standard pillow height. The Silk & Snow Pillow has a modest level of support while offering enough padding to cradle your neck and relieve pressure on your spine.
Best Eco-Friendly Pillow for Neck Pain
The Avocado Green Pillow is a fantastic pillow that is sustainable for the environment as it's made from non-toxic and organic materials such as Kapok. The Kapok filling and cotton cover give it a comfortable feel. It's also an extremely flexible and adjustable pillow that can be modified for different sleeping positions.
It's also hypoallergenic and devoid of chemical emissions that might be dangerous to your health. You can even get extra filling which is offered separately to give it more height. Additionally, the company also provides a 100-night sleep trial for their pillows.
How to Choose One That's Best for Your Neck Pain
People generally look for foam and latex pillows because these materials are proven to be effective for people suffering from neck pain. Pillows made of these materials provide more support than regular pillows and help reduce neck aches. Pillows with ergonomic designs that offer neck support without necessitating excessive neck elevation are also preferred. The following are some other factors that can help you choose a pillow that fits your requirements:
Budget: The price of the pillow, value for money, and the budget you're willing to allocate to invest in a pillow for your neck pain determines which pillow you should purchase.
Certifications: It's preferable to choose pillows that have official certifications for their claims (Eg: CertiPUR-US). It helps you choose one that is allergen-free, pollutant-free, and clinically approved for neck pain.
Sleep Trials: Most companies offer sleep trial periods on their pillows to enable their users to try out the pillow and give them the option to return it if it doesn't suit their requirements. This is a great way to save money in your quest for the perfect pillow.
Size, Shape, and Material: The size of the pillow, filling material, shape, and surface contours play an integral role in determining which pillow you should choose for your neck pain.
Acquire Reliable Neck Pain Relief Treatments at New York Pain Care
If neck pain interferes with your ability to sleep, a good pillow can only go so far in helping with mitigating neck pain. Our group of medical professionals at our New York Pain Care facility will create a treatment strategy that will provide you the relief from neck pain you need.
We treat a variety of injuries and provide non-surgical pain management techniques. They can also help with headaches, sports injuries, shoulder pain, and other types of chronic pain. Make a call right away and let New York Pain Care assist you in leading a pain-free life.