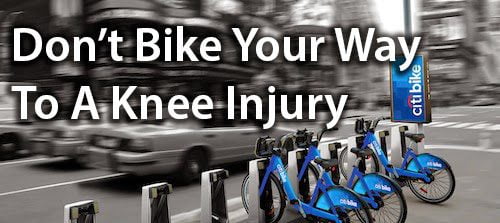 It's no secret that biking is an excellent, not to mention enjoyable, form of exercise and transportation. With the new Citi Bikes all over NYC, it is hard to find an excuse not to go cycling through the park on a nice day, fit in a cardio workout or even get to a meeting at the office on time. 
Bicycles are undoubted, a convenient solution, especially in Manhattan. "So what is the problem with cycling then", you are probably asking? Riding a bike, especially when you do it on a regular basis, can be particularly tough on your knees. Knee injuries are all too common among bike riders and can lead to more serious conditions such as Knee Bursitis and Ligament Strains. For this reason, we have put together some handy guidelines to follow to avoid knee injuries and knee pain while bike riding.
Adjust The Seat
While this seems quite simple, you'd be surprised to find out that knee pain in bicyclists is most often associated with a bike seat that is improperly adjusted. If the seat of your bike is too low, this can cause you pain on the front of your knee. If the seat of your bike is too high, this can put unnecessary tension on the knee and cause pain in the back of the knee.
Mind Your Feet
Preparing your feet, in more ways than one, is also vital in not only making sure you have a comfortable bike ride, but a bike ride that will not put extra pressure on your knees.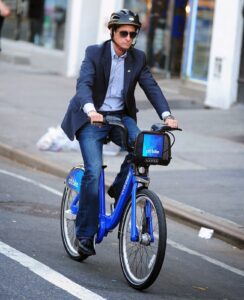 First tip is to wear sneakers for bike riding. Other shoes, such as flip-flops or dress shoes, do not provide adequate support or flexibility to your feet. While sometimes you cant help it, throw a pair of sneakers in your bag if you know you will be riding your bike later in the day. Put some sneakers on Anthony Weiner!
Another tip is to position your feet on the pedals so that the pedals are parallel to the ground. This helps you keep your knee in line to prevent a knee injury.
Lastly, some people have one leg that is longer than the other. This difference in height can make it difficult to adjust the bike seat and pedals to fit both legs comfortably. A solution for you if you fall into this category and bike often, is to look into Orthotics. Orthotics are custom fit for you to wear inside of your shoes and provide comfort and support (not just when riding a bike!). Our doctors use Sole Supports Orthotics to custom fit our patients with not only knee and foot pain but back pain as well!
Gear Up
If you are an avid bike rider or even just an occasional bike rider, it is important to understand the gears on your bike and how to use them. Riding your bike in the wrong gear can lead to all types of sports injuries, knee pain and knee injuries being most common. Do your research on your bike and which gear should be used for going uphill, going downhill, going fast, etc. Check out this great article by Total Women's Cycling that explains how to use your gears efficiently.
Take Care Of Your Knees
Cycling can actually be a great exercise for knee injuries but is often done in moderation as part of a Physical Therapy or Rehabilitation program. If you are experiencing knee pain from bike riding, playing a sport or for any other unknown reason, do not try to diagnose it yourself.
At New York Pain Care, the Top Knee Pain Doctors & Sports in Manhattan can help you diagnose your knee pain, treat your knee pain and prevent future knee injury.
Request an appointment now on ZocDoc or call us at 212-604-1300.