Neck pain is a common disorder that affects up to 50% of the adult population every year. Most of the time, its symptoms are acute and they can get better with rest and conservative care. However, in cases of chronic neck pain, you may need to get a more comprehensive diagnosis since it could be related to a bulging disc injury in your cervical spine.
So what causes cervical disc protrusion and what can you do about it? Cervical discs often bulge or slip out due to natural degeneration, acute trauma, and other lifestyle factors such as poor posture and being overweight. For moderate bulging disc symptoms, it can be remedied with pain medication, cortisone injections, cervical traction, and physical therapy. Spine surgery can also be done in cases of severe pain to directly remove the damaged disc.
Cervical Disc Bulge Explained: What Causes This Condition?
A bulging disc isn't an uncommon condition, and it's usually one of the primary sources of neck and arm pain. The good news is that not all cases of the cervical bulging disc are a serious concern. This disorder occurs when the nucleus inside the intervertebral disc shifts and pushes out of its outer layer. This can cause the disc to bulge out of its position and expand into the spinal canal.
This condition is often confused with a herniated cervical disc, but it's important to know the difference between the two so you can get the proper treatment. One significant distinction is that a bulging disc doesn't always affect its entire perimeter, while cervical disc herniation usually involves damage or tear that causes the nucleus to leak directly into the spinal column.
With cervical herniation, there's a high chance that it can irritate the nearby nerve root and cause painful inflammation which can lead to chronic neck pain. When diagnosed early, a cervical bulging disc is easier to treat and you can prevent its symptoms from worsening and stop it from herniating.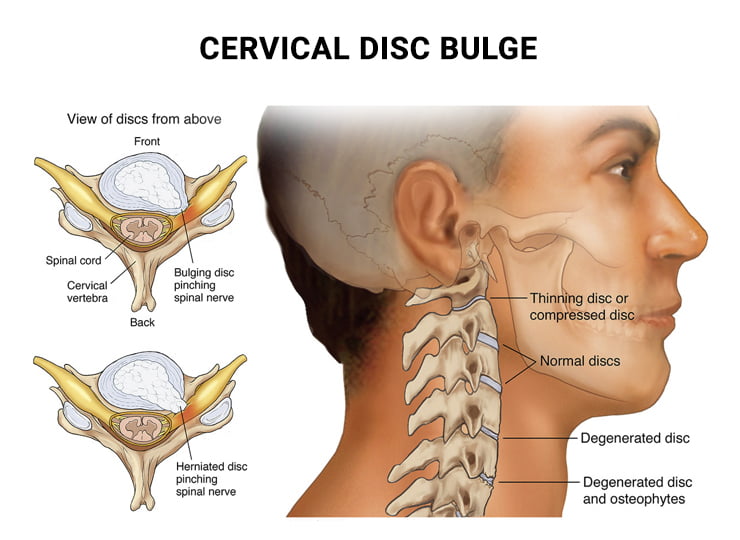 Understanding the Anatomy of Your Cervical Spine
To better understand how a bulging disc can cause neck pain, let's look at the anatomy of the spinal cord. The spine is generally divided into 3 main segments:
Lumbar spine: This is located at the lower part of your spine, and is connected to the hips and sacrum bone. It's responsible for supporting most of your upper body weight and alleviates the pressure from lifting and carrying heavy items.
Thoracic spine: This is the middle portion of your spine where the ribs are also attached.
Cervical spine: This is the topmost part of the spine that allows you to move or turn your head and neck.
The cervical spine or neck comprises 7 vertebral bones. These bones are stacked on top of each other and in between them lies the cervical discs. There are also other important groups of muscles and ligaments, such as the trapezius, deep cervical flexors, and anterior and posterior ligaments, which help stabilize your neck.
The Function of Cervical Discs
There are a total of 6 spinal discs located between each of the 7 cervical vertebrae. These discs are typically round-shaped and have 2 basic components:
Exterior or annulus fibrosus: This is the tough, outer shell that covers the intervertebral disc and protects the inner core. It typically acts as the shock absorber and helps distribute the pressure or forces to minimize the damage to the cervical spine.
Interior or nucleus pulposus: This refers to the soft, gel-like component found in the core of the cervical disc. This helps provide flexibility to the spinal disc and serves as a cushion to prevent direct bone-to-bone contact and avoid fractures and injuries.
Common Reasons Why Cervical Discs Bulge
A healthy cervical spine allows for greater flexibility, support, and movement for the neck and head. Unfortunately, it's also more vulnerable to unforeseen accidents which can cause the discs to protrude or herniate. Here are some possible causes of cervical disc protrusion:
1) Acute injury to the neck region
One of the leading causes of cervical injuries is blunt trauma or accidents to the neck area that can cause the disc to physically tear or slip from its position. A primary example is having whiplash from a car accident. When you're involved in a sudden car collision, your head will abruptly move forward and backward. This can cause the neck muscles to extend beyond their normal range and result in a bulging or ruptured disc.
2) Poor posture
Neck pain is also commonly experienced by individuals with poor posture. If you're constantly slouching or bending forward, your neck experiences a lot of muscle strain and there's increased pressure in the cervical discs which can lead to bulging or herniation.
3) Degenerative disc disease
Like any other structure in the body, the spinal discs need to be hydrated so they can maintain their flexibility and perform their optimal function. However, as you age, the discs lose water which can lead to changes in their normal shape.
This natural degeneration can result in bulging or herniated discs and cause symptoms of muscle weakness, numbness, and neck pain. It can also cause some spine-related conditions like spinal stenosis or the narrowing of the spinal canal, arthritis, and sciatica pain.
4) Being obese or overweight
Excess weight can also affect the natural curve of your spine and it can make you more prone to leaning forward which can contribute to a bad posture. It can also add pressure to the nerves and discs in the cervical spine which can lead to symptoms of neck pain, muscle tightness, and strain.
Other Factors That Can Contribute to Bulging Discs
There are also additional factors that can increase your risk of having bulging or slipped discs in the neck. If you want to prevent this condition and keep your cervical spine and discs healthy, you should be aware of these possible factors:
Having a physically demanding job: Any work that involves heavy lifting, movements, and physical labor can put a strain on your neck muscles and put you at greater risk of having bulging discs.
Increased stress: A cervical disc bulge can also occur if you have neck pain as a result of mental or emotional stress.
Poor sleeping posture: Sleeping on the wrong side or in an awkward position where your neck is twisted may also lead to a bulging disc problem.
Lifestyle factors: Being a habitual smoker can also increase your risk of a bulging disc. The nicotine can affect the blood circulation to the spine which can accelerate disc degeneration.
Family history: If any of your family members have been diagnosed with bulging or cervical herniated disc, there's also a possibility that you may experience this condition.
Signs of Bulging Cervical Discs
A cervical disc bulge is commonly associated with sharp or burning pain in the neck, arm, and shoulder. It can also lead to other uncomfortable symptoms such as:
Radicular pain – This is described as pain that comes from a pinched nerve in the cervical spine, and it can extend to the shoulders, forearms, hands, and fingers.
Cervical radiculopathy – This happens when an irritated or compressed nerve root causes neurological effects such as weakness and numbness in the affected nerve, loss of sensation in the arms, and chronic headaches.
Pain that worsens with certain activities – When you have a cervical bulging disc, you may also experience constant flare-ups of pain when you're moving or tilting your head or when you're laying down.
Stiffness – Aside from neck pain, you may also have neck stiffness as a symptom and it can reduce your overall range of motion.
Treatments for Bulging Discs in the Cervical Spine
You don't have to live with a bulging disc when there are many possible treatments that can help provide cervical pain relief. Here are some of the common treatment options for a bulging disc in the spine:
Medications: Pain killers, muscle relaxants, and anti-inflammatories are usually the first line of treatment for reducing pain and tension on the affected nerve. They're usually taken under prescription since some medications may have some side effects.
Physical therapy: You may also visit a physical therapist who can recommend neck stretching and strengthening exercises to relieve your pain. It'll also help you develop a better posture to prevent further symptoms of bulging disc pain.
Cervical traction: This neck pain treatment can be done manually or mechanically with the help of a traction device. The goal of this procedure is to apply gentle force on your head to create ample space between the bones in the cervical spine and help decrease the size of the bulging disc.
Steroid injections: You may also get epidural steroid injections to help manage inflammation in the affected spinal nerve.
Surgery: If the conservative treatments are ineffective, you can also opt to have minimally invasive spine surgery. The most common surgical treatment for this condition is the anterior cervical discectomy which involves removing the damaged disc in the neck through a small incision.
New York Pain Care: Your Partner for Spine Care and Pain Management
Don't let your bulging disc pain get worse and get the immediate care and treatment that you need. At New York Pain Care, we have specialists who can provide an accurate diagnosis of your condition and create a comprehensive treatment plan that will help you get better quickly.
Our team is trained in the best non-surgical methods that will provide bulging disc pain relief. We can also offer specialized sports medicine treatments, physical therapy, and chiropractic care. Call us today to request a consultation and know more about how we can help you recover from your pain.