The spine is an important structure that provides balance and enables you to perform a variety of motions, such as walking, sitting, or bending. Although it's highly flexible, it's also vulnerable to injuries that can cause moderate to severe pain. One of the sections that are likely to be injured is the cervical spine, especially the C5-C6 motion segments.
So what are the common signs of a disc injury originating from the C5-C6 in the cervical spine? When a bulging or herniated disc occurs in the C5-C6 region, it can cause sharp pain that radiates from the neck to the shoulder, arms, hands, and fingers. It can also lead to muscle weakness, numbness, spasms, headaches, and neck stiffness. There may also be a cracking or popping sound when moving the neck.
Explaining the C5-C6 in the Cervical Spine
The spinal cord is composed of different segments: the cervical (neck), thoracic (middle back), and lumbar spine (lower back). Each section has stacked vertebrae that form the spinal canal, and between each bone, there's an intervertebral disc that cushions and protects the entirety of the spine.
In the neck region itself, there are 7 vertebrae distinctly labeled C1 to C7, and a total of 6 spinal discs that are located in the middle of each bone. These bones are found from the base of the skull to the shoulder. Their main role is to protect the spinal cord and support the neck and head. Here's how the bones in the cervical spine differ from each other:
C1 to C2 vertebrae: They're also called the atlas (top vertebra) and the axis (second vertebra). They're considered to be the smallest of the cervical bones, but they're also responsible for most of the flexion and rotation movements of the head.
C3 to C7 vertebrae: The remaining bones basically have the same features and functions which are to provide rotation and bending motions to the neck. However, the C5 and C6 bones are particularly unique because they carry most of the weight of the head.
Compared to other cervical vertebrae, the C5-C6 segment is highly prone to personal injury, fracture, and disc problems. When damage to a spinal nerve root or disc happens to this section, it may lead to neck instability, pain, and weakness to the extremities that may occur on one or both sides of the body. In rare cases, severe injuries to the C5-C6 region may also cause paralysis or loss of bowel and bladder control.
What Does a C5-C6 Bulging or Herniated Disc Mean?
The spinal discs in the C5-C6 segments are made of an outer layer (annulus fibrosus) and a soft inner gel material (nucleus pulposus). Due to its structure, the disc helps protect the bones from any sudden impact or pressure while also supporting neck movement in different directions.
However, these discs are also prone to losing their strength and function over time. As you get old, it loses its fluid and begins to dry out which can lead to cervical disc herniation or protrusion. A cervical herniated disc is common in the C5-C6 section. With disc herniation, the inner portion leaks out into the spinal column as a result of a tear in the annulus. This usually leads to spinal cord compression and increased pressure in a nearby root.
On the other hand, a C5-C6 bulging disc means that the nucleus is only protruding outward but its entire outer layer remains intact. But although there's no damage to the annulus, a cervical bulging disc can still irritate the nerves and may lead to discomfort in the neck.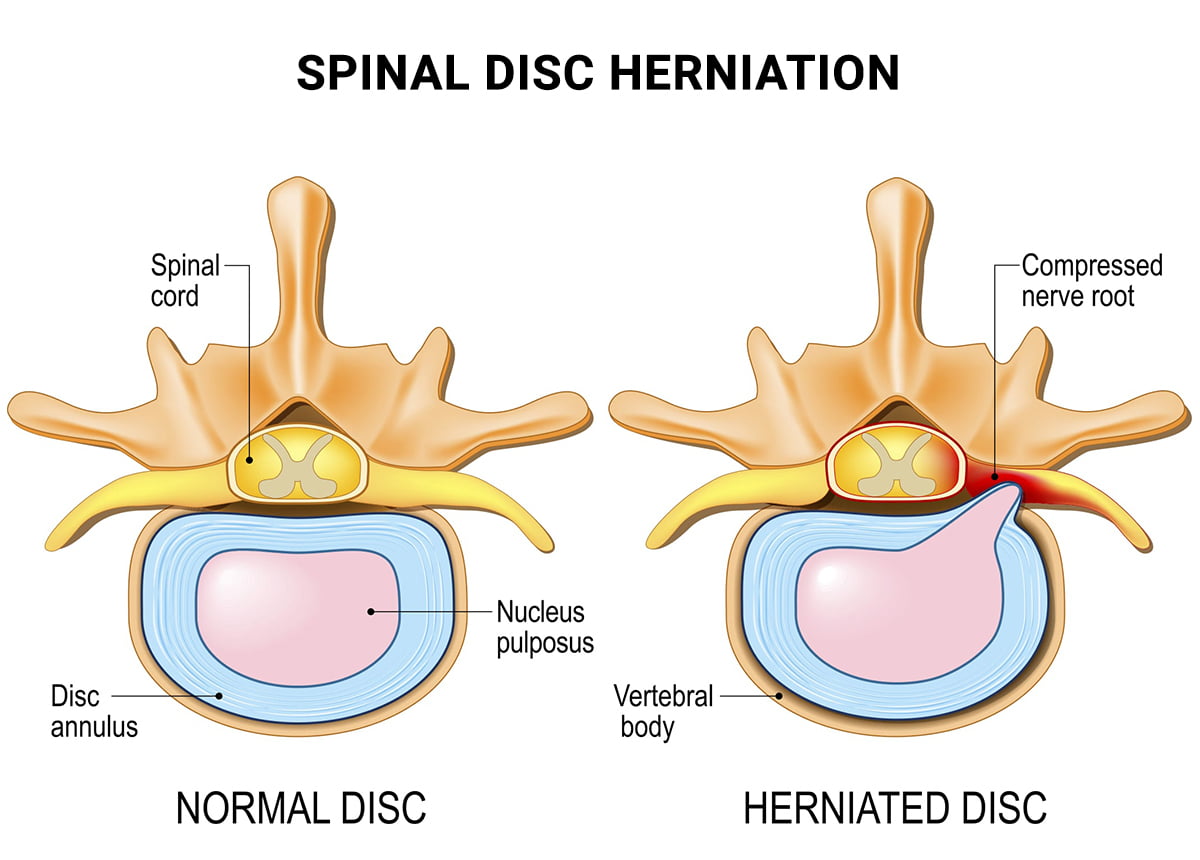 Telltale Symptoms of C5-C6 Disc Problems
One of the most common signs of a herniated or bulging disc in the C5-C6 is neck pain. This pain is usually felt on the back or side of the neck and can extend to your shoulder blades. Other indications that you may have a ruptured or protruding cervical disc are:
1) Stiff Neck and Limited Range of Motion
The painful inflammation of a C5-C6 bulging disc can affect the nearby tissues and muscles in the neck. It can cause spasms, soreness, and tightness that can significantly restrict your neck movements. A stiff neck may also be accompanied by severe radiating shoulder or arm pain. You may also experience neck crepitus which describes the cracking or popping sound when moving the cervical spine.
When a cervical disc affects a spinal nerve root, it can lead to loss of sensation and weakness of the shoulders, arms, hands, and fingers. It's usually a result of having a pinched nerve from herniated or bulging discs.
3) Cervical Myelopathy
If cervical radiculopathy basically refers to a neurological change from bulging discs, myelopathy is a condition that can affect your motor skills and overall balance. Its symptoms typically include loss of function in the upper and lower body, reduced range of motion, difficulty coordinating hands and fingers, and loss of bowel and bladder control. This disorder can happen when there's severe compression in the spinal nerve.
A cervical disc herniation or protrusion can also cause tension in the back of the head. This can lead to a sharp or throbbing pain that can occur on one side of the neck, head, or face. The pain can worsen whenever you take a deep breath or sneeze. It may also cause symptoms such as increased sensitivity to light and blurred or double vision.
Possible Causes of C5-C6 Disc Bulge or Herniation
Since the C5-C6 spinal segment is exposed to a lot of pressure from daily activities and movements, it's not unusual to experience pain and discomfort in the neck. Here are some of the factors that contribute to a herniated or bulging disc in the cervical spine:
Poor posture: Having a habit of constantly slouching or bending forward puts an excessive strain on your cervical vertebrae and discs.
Natural disc degeneration: Bulging discs can also occur as a result of the age-related wear and tear of the cervical spine structures.
Acute injuries or accidents to the neck: Any injuries or accidents that apply excessive force or pressure to the neck may affect the discs and lead to cervical herniation or protrusion. One example is a whiplash injury that causes the neck to rapidly jerk forwards and backward.
Pre-existing spinal conditions: A bulging disc may also be related to other spine disorders such as cervical spondylosis or spinal stenosis.
Genetics: Your family history may also determine how likely you are to get a bulging or herniated cervical disc. If you have a family member with chronic neck pain or a previous diagnosis of a disc problem, you may also be prone to having this condition.
Steps to Diagnose a C5-C6 Bulging Disc
Some symptoms of the bulging disc can get better on their own, but if you experience persistent pain, you may need to visit a specialist and receive an accurate diagnosis of your condition. Generally, there are 3 steps to assessing a possible cervical bulging disc:
Review of patient's medical history: Your doctor will ask about your family's medical history and inquire if you have any previous diagnosis of a spine-related condition and other chronic disorders. They'll also ask about when you started feeling your symptom and determine its current severity.
Physical examination: They'll also check your neck area and look for visible signs of swelling and tenderness. They may also test your reflexes and examine your neck's range of motion.
Medical exams: To confirm if you have a slipped or ruptured disc, the doctor may also order some imaging tests such as an MRI, CT scan, and myelogram. They may also perform a nerve conduction study to see if the disc has affected your muscle and nerve functions.
How to Treat C5-C6 Bulging Discs
Upon consultation with a spine specialist, they may recommend conservative care and treatment to help you recover from bulging disc pain. Here are some of the common treatment options for cervical disc protrusion:
Medications: Doctors may prescribe pain killers and non-steroidal anti-inflammatory medications to help manage discomfort from a C5-C6 bulging disc. However, they're usually taken only for a short time since they may have some side effects.
Physical therapy: You may also undergo a physical therapy program to get pain relief from bulging discs. Most physical therapy sessions include neck strengthening and stretching exercises to help reduce pain and pressure on the nerves and discs. It can also help improve your overall posture to lessen the overall strain on your neck.
Steroid injections: Epidural steroid injections can also help reduce bulging and herniated disc symptoms. Most injections can provide comfort and relief from acute and chronic pain for at least 3 to 6 months.
Cervical traction: This treatment involves using a motorized traction device that applies gentle force to stretch your cervical vertebrae and create space for the discs.
Anterior cervical discectomy: In severe cases of cervical disc bulging or herniation, surgical treatment may be considered to remove the damaged disc from the spine. This surgical procedure can help alleviate the pressure on the affected nerve and spinal cord and provide lasting relief.
Don't Let Severe Pain Affect Your Life With Help From New York Pain Care
You may have a C5-C6 bulging disc if you constantly experience neck pain, weakness in the arms and hands, and chronic headaches. If you have these symptoms, it's best to consult immediately with your doctor to get the proper treatment and prevent your disc problem from worsening.
At New York Pain Care, we specialize in nonsurgical treatments and chiropractic care for any kind of pain and spine condition. We have a team of specialists who can provide a comprehensive care and recovery plan to help lessen the impact of a bulging disc in your life. Call us today to schedule your appointment or learn more about our procedures for spinal disc injuries.